23/6/2006
First images of 'El coronel Macià' showed in public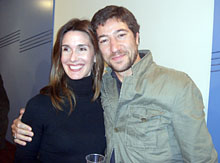 Molly Malcolm and Félix Pons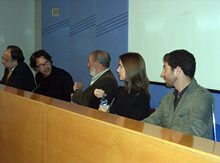 From left to right: Josep Maria Figueres, Abel Folk, Josep Maria Forn, Molly Malcolm and Félix Pons.
Last november 25th, more than 100th years has elapsed from the well known 'La cuartelada'. A group formed by 200 militars attacked and broke the headquartes of the weekly satirical magazine '¡El Cu-Cut!' and the newspaper 'La Veu de Catalunya'. These facts are the starting point of 'El coronel Macià' and for that reason, on november 23rd, 2006took place a public ceremony in the Museu d'Història de Catalunya, where several sequences of the film were showed for the first time to an audience.
The act was introduced by Josep Maria Forn, scriptwriter, director and producer, Josep Maria Figueras, historical consultant, and the actors Abel Folk, Molly Malcolm and Fèlix Pons. Abel Folk - who plays Maciá, the first Generalitat president in modern times, said that it was a great experience for him and also that the fact of being a historical carácter was not especially difficult, since he already has some experience after playing Narcís Monturiol, the inventor of submarine, or Freud in the theatre play 'Histeria' directed by John Malkovich. The actor thinks that Macia's main appeal was his interior complexity, saying that if he changed radically (from monarchist militar to Generalitat president) was after deep reflections.
The film focuses in the less known part of Macià's life, said Forn. The image we all have of him is that of 'L'Avi' (The Grandfather), affectionate name given to him by his followers, the man that on april 14th, 1931, proclaimed the Catalan Republic. The film goes backward to explain his path and to find out his inner world. In spite of it, El Coronel Macià, doesn't try to become a historical document and so, fiction and reality are mixed to find a combination among apprenticeship, discovery and entertainement.